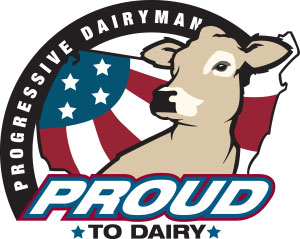 Back in 2012, our staff had an idea to create additional versions of the Proud to Dairy logo using other breeds of dairy cows.
We decided to move forward with a Jersey breed version. So the design team at Progressive Publishing went to work on designing the Jersey cow that would take its place in the Proud to Dairy logo.
Illustrator Kevin D. Brown worked on the drawing and digitizing of the cow and the first hat mockup was created. After consulting with a number of breeders in the Jersey industry, our team made some modifications to the original illustration to make the cow more slender and streamlined, resulting in the final version of the Jersey Proud to Dairy logo.
The Jersey Proud to Dairy hat made its debut at the 2013 World Dairy Expo. Producer Derek Orth of Lancaster, Wisconsin, was the first recipient of the new hat.
We also provided several hats for prizes to Jessica Peters for the Pennsylvania Jersey Cattle Association annual meeting in March 2014. Peters was one of several Jersey breeders we reached out to for feedback of the design. See the hats in use at the meeting and on Pennsylvania farmers.
You can purchase your own Jersey hat at http://www.progressivepublish.com/hats or post a blog about why you're Proud to Dairy with Jerseys to earn a hat for free.
Find more photos like this on Proud to Dairy